Throughout northern and central New Jersey, populations of exotic invasive plants have established. These plants include multiflora rose, Japanese barberry, phragmites, autumn olive, ailanthus, garlic mustard, Japanese honeysuckle, Oriental bittersweet, Japanese stiltgrass, and mile-a-minute weed (amongst others). These plants were introduced to the United States at various times. However, since these plants have no native enemies, pests, or diseases, they have spread rapidly across the landscape, and in many areas have displaced native plant species.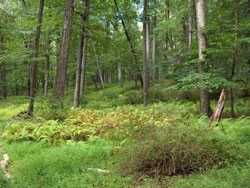 Before
In many ways, these plants are altering the ecosystem. For example, garlic mustard releases an anti-fungal agent that kills fungi that are beneficial to some species of trees and tree seedlings. Ailanthus releases an herbicide from its bark and leaves that affects native plants and trees.
This has caused a decline in certain wildlife species that are dependent on native plants for their survival. In addition, these plants can outcompete seedlings, negating some of the positive impacts of forest stand improvement and timber management. Some of these plants, such as multiflora rose, will grow so dense that neither people nor animals can easily gain entry to infestation areas. Therefore, many landowners seek to control (or at least control the spread of) exotic invasive plants on their property. Generally speaking, many of these species establish well on silty or mesic soils. Most of these plants will establish even under forest stands that are overstocked or that have remained undisturbed for many years.
As part of a Forest Management Plan we assess the types of non-native invasive plants and their levels of colonization in your forest. We would be happy to make recommendations for future control and replacement of these undesirable plants using a variety of methods based on the most recent science and the landowner's objectives.
For additional information on invasive species ecology and control, visit:
http://www.invasive.org/eastern/eppc/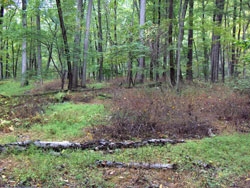 After